It wasn't that long ago when you would put all of your search engine optimization (SEO) efforts on using the right tags, finding quality back-links, keyword-stuffing your site content and outbidding your competitors on specific keywords. It was an ongoing commitment of money, time and resources, and still, there was no guarantee that you can even make it onto page 1 of Google's search results.
But while you are busy fighting your competition for that page 1 spot, Google has already changed the way search results are served.
Have you ever wondered why some businesses are featured in a high-visibility panel that lists their information, right next to the regular results? Try running a search for "Pike Place Flowers" on Google and you will see this: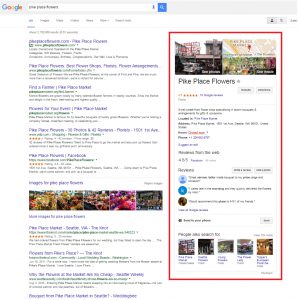 These have nothing to do with paying Google more money or squeezing more keywords into your website content. Instead, it's a result of being on Google My Business.
What is Google My Business?
Google My Business is a free service that Google calls "a free and easy way to find and connect with your people, wherever you are." The core idea of Google My Business is to make it "easier than ever to update business information across Google Search, Maps and Google+" so that your customers can find you.
In other words, Google My Business makes it easy for small businesses to find and be found by customers because your information will appear on Google Search, Maps and Google+.
Why should I use Google My Business?
Now that you have an idea of what Google My Business is, let's look at why you need to get Google My Business for your business.
1. You're easier to find
When you business is listed with Google Maps, your exact address and location will be shown to customers. They don't have to click on your website, navigate to your Contact Us page just to find out where you are and your hours of operation. Closing for the holidays or opening a new location? You can edit all your information instantly.
2. Your information is clickable
Customers on mobile phones can click your phone number to call you, tap on address to get turn-by-turn, door-to-door directions, or tap on your website address to get to your website.
3. Multiple Google services, one dashboard
You have one centralized dashboard with access to Google+, Insights, Reviews, Hangouts and Google Analytics. You can add photos of your daily specials, respond to reviews and find out how many driving direction requests have been made, all from one dashboard. You can even do it all from your phone or tablet with the Google Android and Apple iOS apps.
Where do I sign up?
To get started, go to the Google My Business website and click Start Now.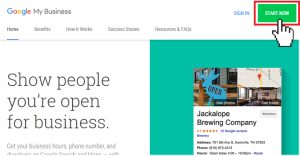 1. On the Find your business screen, enter your business name or address.
2. Don't worry if your business is not listed, simply select I've correctly entered the name and address – Let me enter the full business details.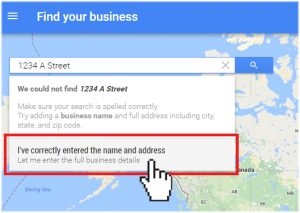 3. On the Add your business screen, enter your business' information. When ready, click Continue.
4. On the Confirm your business screen, check the I am authorized to manage this business and I agree to the Terms and Conditions and click Continue.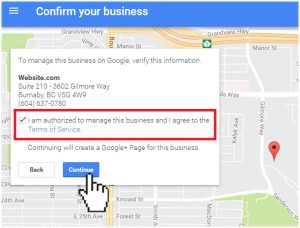 This completes the signup process and all you have to do now is to wait for the postcard from Google, which should arrive within 12 days. Once you have it, follow the instructions on it to complete the verification process.
In the meantime, you can get started by filling out your business profile. You can add a profile photo or business logo, enter basic information such as your hours of operation and website address. Note that as a safeguard against scammers and fraudulent profiles, no information you add here will be visible until you have received the Google postcard and actually verified your business.
Tips on how to get the best out of Google My Business
Now that you've signed up and verified your business, here are a few tips to get the best out of Google My Business.
1. Include an accurate description of your business. You want the description of your business to be appealing, but at the same time it needs to actually describe what you do. Keywords are important, but don't overdo it.
2. You are allowed up to 10 images and 5 videos. It's free so make the most of it! For example, use pictures and images to showcase new products or to highlight special offers or behind-the-scenes information.
3. Promote special offers and sales events using Google+'s built-in Google+ Events.
4. Create a community and connect with customers. For example, hangout with your customers with Google Hangouts – you can hangout with 10 to 15 customers at a time, or even stream the conversation via YouTube Live. You can also respond to reviews.
5. You will find Insights and Analytics tools on your Google My Business dashboard. Use them to learn more about your customers – what kind of content they like, where they're coming from, how many of them visited your website, etc.