The United States reached a record high of $791.70 billion in online sales in 2020 – a 32.4% increase compared to the previous year. According to a PwC report from June 2021, the rapid shift to online shopping is here to stay, making it crucial for business owners to make online sales possible.
If you need to move your business online or optimize your online store for optimal conversions, the time to do it is NOW. Here are key strategies to increase online store sales:
Mobile Optimized Checkout and Store
Today, over 70% of website traffic is on mobile, compared to 22% on desktop devices. More purchases are now made on phones—a 55% of revenue compared to 36% made on desktop. In 2020, the global mobile commerce sales hit $628 billion and is projected to grow at a compound annual growth rate of 34% from 2021 to 2026.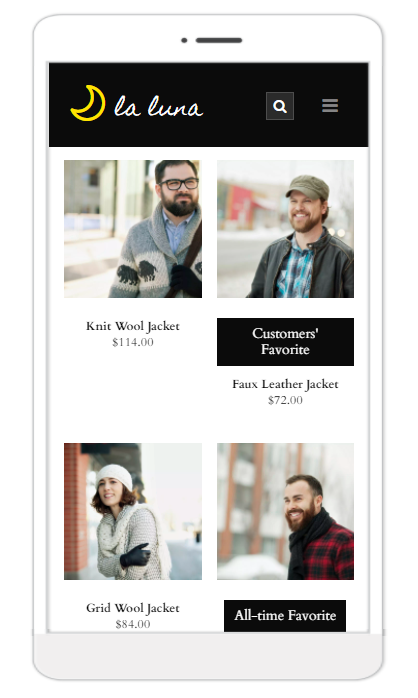 This means it is more essential than ever to ensure your online store is mobile-optimized, allowing shoppers to complete orders through their phone. With all Website.com plans, your online store checkout is automatically mobile-optimized, making it easy for customers to make a purchase. You can also create a mobile version of your entire website in just a few clicks using our Mobile Editor and Smart Layout tools.
Powerful Promo and Retention Features
Abandoned Cart Recovery
An Abandoned Cart occurs when a potential customer places items in their cart, but leaves the website before completing their purchase. A study by Baymard Institute discovered that the global average shopping cart abandonment rate was up to 70%. It is estimated that companies lose as much as $18 billion USD annually due to abandoned carts.
While this can be devastating for business owners, the good news is that there is a way to recover these lost sales by using Website.com's Abandoned Cart Recovery.
With Abandoned Cart Recovery feature, you can track your abandoned cart customers, and choose to send out recovery emails to remind them to complete their purchase. This is a powerful feature that gives you the opportunity to entice serious shoppers back to your store and complete their shopping experience.
While you may not be able to retrieve all lost sales, a study by Moosend shows that 45% of abandonment emails are opened, and a staggering 50% of the users who clicked through the email went on to complete their purchase.
All Website.com Business Standard Plans and above include the Abandoned Cart Recovery feature.
Coupon Codes
With Website.com Business Basic plans and above, you can create and offer different types of coupon codes, such as percentage discounts, free shipping, fixed discounts, etc. Shoppers can apply the code at checkout to receive their discount to their order or select items.
Coupon codes are a powerful tool that can increase sales from multiple angles, including:
-Adding incentives for new customers to make a purchase
-Rewarding loyal customers with exclusive promotions
-Boosting repeat sales
-Spreading awareness about your store or products
-Recovering abandoned carts (see bonus tip below)
Bonus Tips:
-For Website.com Business Standard plans and above, you can create a custom message for your Abandoned Cart Recovery emails. Using this feature, you could include a coupon code in your custom message to further entice potential customers to complete their purchase!
-Promote your coupon code directly on your website! After creating your coupon code in the store manager, you can simply create a text banner at the top of your website to display your coupon code: e.g. "Free shipping with minimum $75 purchase." To create the banner, just add a text element to promote your coupon code. You can add a color strip under your text to make the text stand out. Place the coupon code banner near the top of the web page to ensure your website visitors are aware of the promotion.
Easy Payment Integrations
With any online store, the key is to make the payment experience as smooth and easy as possible. Imagine losing an eager customer simply because you don't offer the payment method that they require (or feel comfortable using). You simply cannot afford to make such an avoidable mistake.
With Website.com, you have the ability to add multiple payment methods. For all plans, you can offer offline payments, as well as PayPal to accept PayPal payments and all major credit card payments. PayPal is one of the most popular online payment gateways, with over 400 million active users in mid 2021. By offering a trusted payment gateway, customers are more willing to make a purchase. In addition, PayPal's Purchase Protection offers customers a sense of security so that they can shop at your website with confidence.
One example to consider: both you and a competitor offer the same product. However, your website accepts payment through PayPal, while the other website accepts payment directly through their website. Customers will be more likely to make a purchase through your store, knowing that they can trust PayPal's Purchase Protection to safeguard them from any potential issues.
With Business Basic plans and above, you can also accept payment though Stripe and Square, plus add varied offline payment types – giving potential shoppers even more trusted payment options. By including more payment options, you remove any barriers that could make it difficult for potential shoppers to complete their purchase.
In Conclusion
With just a few tweaks, you can optimize your online store to capture more sales in the quickly growing ecommerce market. The commerce landscape is rapidly shifting online… don't wait to get your business ready to meet these consumer habits.