Website building can be a daunting goal regardless of your previous website building experience. Depending on your goals and plans for your site, you might just want something simple that still features great performance.
That's why with simplicity and section-based design in mind, Website.com is pleased to introduce the new Website.com Simple Editor, a new website builder launching alongside our existing Advanced editor.
What the Simple Editor Offers
The Simple Editor is a powerful website building tool that works from your desktop, laptop, and mobile browsers, offering you a seamless and high-quality website building experience. Exceptional accessibility and a quick creation process let you make your website truly represent you.
With the Simple Editor, we make publishing sites a quick, convenient, and simple process, so you can create high-quality, responsive, and professional-grade websites anytime, anywhere!
The Simple Editor is designed to meet all your website needs, whether you're creating a dental clinic website, an organization's home page, a comprehensive art portfolio, or a dog walking business site.
On-the-Go Website Building
The Simple Editor stands out for its smooth website building functionality on both desktop and mobile devices. There's no need to install any apps to use our website builder on your desktop or mobile devices. Just open our website builder in your browser and start building your site!
Build Your Site From Your Phone
Because of the Simple Editor's ability to let you build websites using both desktop and mobile devices, you get the great benefit of being able to upload images from your phone directly to your website.
Want to create a showcase of a new product that you've just stocked, or feature a new great photo of your storefront you've just finished painting? Simply snap a picture on your phone and upload it directly to your site, hassle free.
After you've uploaded your images to your site, you can quickly get to work tweaking how your image is used on your site, so any ideas you have can be made reality instantly!
Your Site Will Always Be Responsive
Unlike with some other website building platforms, websites built on the Simple Editor are always responsive. This means the website's elements adapt to whether your site visitor is viewing your content from a large computer's screen or from a mobile device's smaller screen, without you needing to do any extra work to tweak them to do so.
With the Simple Editor, you enjoy a smooth and hassle-free website creation and building experience, and your site visitors enjoy a seamless and high-quality content viewing experience. Watch this video to see how you can create a website from your mobile phone:
Optimized Site Speeds and SEO
A great advantage of the Website.com Simple Editor is the great site speeds that it offers, which contributes a lot to having strong SEO performance for your site's pages. Thanks to great site speeds and strong SEO performance, your site and its content can rank higher on search engine results. This can make a huge difference in the amount of traffic your site gets from visitors.
How Site Speeds and SEO Help Your Site
SEO results are in part determined by the quality of website pages. A website page's quality is examined using a range of metrics that measure the quality of a website page in question. These quality-measuring metrics can range from, for example, how long page content takes to load, to what the largest pieces of content present on site pages are.
The overall quality of a website's page on both desktop and mobile devices is examined, and their performance on these two different platforms is frequently used to factor into determining the rankings of search results displayed by search engines like Google.
Search rankings of a website page's quality are vital to deciding how much traffic reaches a website's pages. This is because the higher ranked a page is in search engine results, the more organic traffic will naturally be drawn to a highly-placed search result.
A strong site speed score can lead search engines to display your website page much higher in search results, so your page will have many more opportunities to attract visitor traffic compared to pages that rank lower in search results.
In the next sections, we will explain to you how our Page Speed Optimizer help you achieve 90/100 scores on Google's PageSpeed Insights.
Site Optimization Matters
As part of your Website.com membership, all plans available to users have access to a feature named Page Speed Optimizer. Business Basic and above clients will also have access to a feature named Page Speed Optimizer Pro.
Page Speed Optimizer and its Pro counterpart automatically work to optimize your website's content to ensure your site can load fast and be found by search engines in their optimized state.
With your automatically optimized site loading, search engines are more likely to identify your site for its quality performance and factor this into how it ranks your site pages in search results. This feature is entirely automatic and done at the code level of our services, so no action is required on the side of you, the user.
Thanks to the efficiency of the Simple Editor and the features of Page Speed Optimizer, websites built using the Simple Editor provide your site pages with strong overall performance regardless of whether your site pages are being displayed on desktop or mobile devices.
Great Desktop Performance
The difference in device that content is being displayed on often results in strongly contrasting site page performance for website pages created using other website builders.
Using openly accessible free website page performance analytics, such as Google's PageSpeed Insights, can measure the speed and performance of sites to understand what might be impacting sites' SEO. This lets us see the varying performance speeds that sites operating on different platforms can have.
With the Website.com Website Builder, websites that you build will frequently score over 90/100 on PageSpeed Insights for their performance on desktop sites. Strong performance on desktop devices is a great asset for your site to have.
Great Mobile Performance
Where the Website.com Simple Editor really shines, though, is its mobile site performance scores. For websites built using the Simple Editor, they frequently score 80/100 or above for their performance on mobile devices. When Website.com's Page Speed Optimizer Pro is active on a site created using the Simple Editor, this performance score can climb up to 90/100 and above.‡
On the other hand, for websites built using other website builders in the industry, they frequently score 60/100 or below for their performance on mobile devices. Sometimes, these sites can score as low as 20 or 30 due to their lack of optimization for mobile devices.
In contrast to the unreliable performance of website pages created using other website builders, the Simple Editor offers strong website performance regardless of the device that the site page and its content are being accessed with.
Site Performance Matters
Do you want more speed and even better performance for your site? Consider upgrading to Business Basic or above for your Website.com membership. This membership gives you access to the Page Speed Optimizer Pro tool, which runs entirely automatically to optimize your site and can let your page results rank higher in search engines. If you want your chances of ranking high in search results to be even higher, why not give a better plan a try?
To set the benchmarks we've listed, we created two similar websites with identical text, images, and other content using both the Website.com Simple Editor website builder and the Wix website builder, another popular website builder.
We then ran these sites using Google PageSpeed Insights to collect our data. The website built with the Website.com Simple Editor can be found here, and the website built using the Wix website builder can be found here.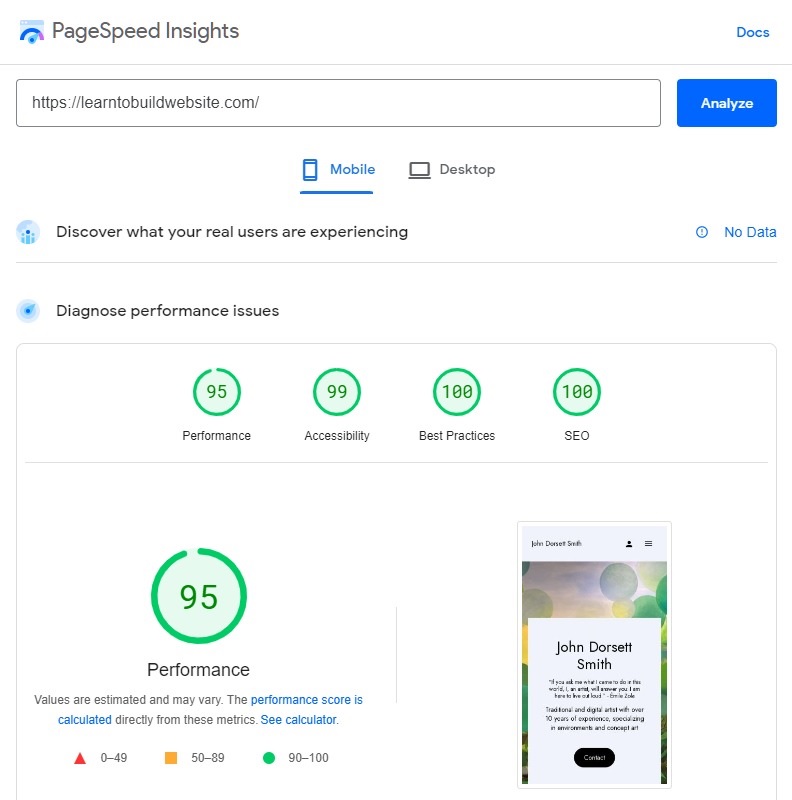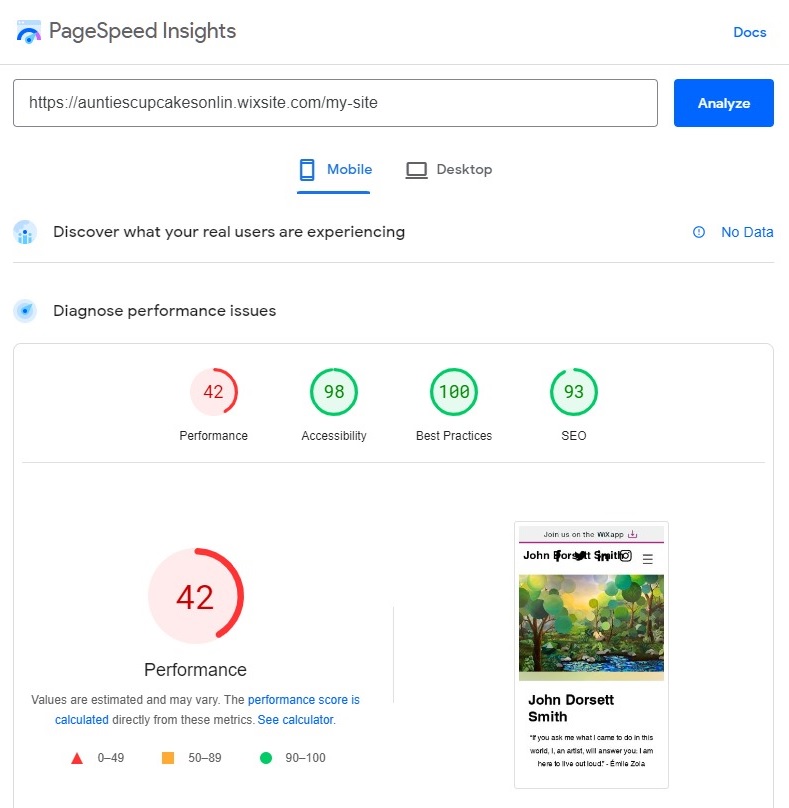 Closing Thoughts
For a website to achieve high scores when displayed on both desktop and mobile devices is a great benefit to your site pages. These results demonstrate that websites and their pages created using the Simple Editor give you more strong and reliable site performance when compared to websites and pages created using other website builders. This leads your content to offering better page loading speeds and streamlined user browsing experiences.
No matter how your site visitors are trying to reach your website pages, whether they're using a desktop computer or a mobile device, your visitors can enjoy a better experience with your content when your site is built using the Simple Editor.
‡Individual website performance results can fluctuate any day/time due to ongoing changes in ranking algorithms, server load, website traffic, etc.