Have you ever found a website that seems to be relevant and interesting to you, only to click onto it and find that it's in an entirely different language than one that you understand? It would only be normal for you to leave this website and find a different website in a language that you do understand. This experience is entirely relatable and understandable of any website visitor to do when encountered with website content in a language entirely foreign to them. This is why you want to prevent any losses your website might suffer from lacking coverage in different languages, and instead gain the benefits a website can enjoy from having its content available in multiple languages.
Your website and its success can be greatly helped by implementing multilingual versions of your content. You can achieve your goals like reaching vastly bigger audiences and building a lasting reputation of quality. Even better, a multilingual site is easy to create in just a few steps using the Website.com Simple Editor. Read on to find out why and how you can create your own multilingual website.
Why You Need a Multilingual Website
When you make a multilingual website, you immediately give yourself and your website content a big boost in a variety of aspects. From vastly expanding the audience your website appeals to and gains the attention of, to building your site's reputable and reliable image in the eyes of your visitors and search engines alike, you'll be finding yourself benefiting from implementing multilingual content and features onto your website.
Make Your Reach International
When your website becomes available in multiple languages, you'll be able to reach and appeal to site visitors in their native language even if it might not be your own native language, or the language your website content was originally created in. By implementing your content in multiple languages, your content can instantaneously rocket up in relevance and understandability to audiences that read and speak, for example, Spanish as their native fluent language, instead of the original language your website content came presented in.
With multiple languages implemented on your website, you'll be appealing to a lot more people than you did with just one language implemented, and the difference between your site's performance with visitors before and after the change could be a meaningful boost to your content's overall reception with your visitors.
Build Trust and a Strong Reputation
Depending on what your website content covers, portions of your main audience might speak an entirely different language from you. This is where translating and customizing your site content in different languages comes into play.
As an example, let's say you run an Italian restaurant in the SoHo district of New York City. At first, you might not think you need to reach customers on a more global, multilingual level because of the localized nature of your business. However, as an Italian restaurant being represented by its website, which anyone around the world can view and access, if you were to display your website in both English and Italian, it might help you build the trust and sense of authenticity that your site visitors feel towards your website, its content, and what it represents. Your restaurant customers will also feel more certain about your business's authentic roots and quality. These benefits demonstrate how offering a multilingual website will strengthen both your business's performance and your site visitors' trust in you.
When your website content appeals to audiences in their native language, they're more likely to see your website as a source of information or entertainment that they can trust and rely on. This is thanks to the credibility of your content not only coming in several different languages, but coming in their native language that they can understand with no need for their own translators, or for them to find a different website that comes in their native language instead.
When your site visitors trust in your website and come to view your website content with a positive perspective, they'll feel motivated to come back to your website again and again for their content needs, especially if you update your content frequently and with interesting additions to your catalog of already-existing content.
Prevent Visitor Loss
Your website being available in several different languages prevents visitors that have native languages different from yours, who would otherwise feel unrepresented or alienated from the lack of their own native language from your site, from feeling compelled to leave your website. Not only would they feel compelled to leave your website, but they would then feel motivated to find a new different website, one that likely comes in their own native language and thus makes them feel appealed to. When your website doesn't come in a familiar language to a visitor of your site, this represents the loss of a portion of your visitor base that can really stack up over time as more and more people find, and subsequently leave, your website to find an alternate one instead.
Prevent the loss of your website visitors by appealing to the language they're most comfortable and familiar with. When you implement multilingual features to your website, you're making your content appeal to a much broader audience than you did before, and you're actively encouraging different visitors that understand a variety of languages to stay and enjoy your content, rather than leave your website to find a different site to give their visitorship to.
Optimize your Multilingual SEO
When you have an understanding of the audiences that you want to reach with your website and its content, you can use your multilingual website to steer your content creation and optimization decisions towards improving your SEO rankings across the different languages your website uses. SEO is crucial for any website's success in gaining and retaining a strong base of visitors, which is why pursuing this across the search results of several languages can be a great benefit to your website, both in the short-term and long run.
Improve Your Competitive and Comparative Edge
Having a multilingual website doesn't just mean you're appealing to a much wider audience than if your website only came in a single language. Having a multilingual website also puts you far ahead of any competition or similar websites/businesses that might exist and compete for your site visitors. When you can appeal to a far vaster visitor base than a competing website or business can, you gain an immense edge over your competition thanks to the sheer number and reach that your website can gain by featuring even one or two more languages than other similar websites do. Who doesn't want a straightforward and surefire way to beat out the competition?
How to Create a Multilingual Website
You can easily use the Website.com Simple Editor website builder to create a high-quality and optimized multilingual website. All it takes is a few simple steps completed in a couple minutes for your multilingual website to be up and ready to welcome new site visitors.
Read on to find easy step-by-step instructions for how to make your website multilingual. You also have the option to watch the following quick YouTube video to learn how as well.
Adding Multilingual Functionality
First, open up your Website.com Simple Editor. In the left sidebar, click on "Manage Pages".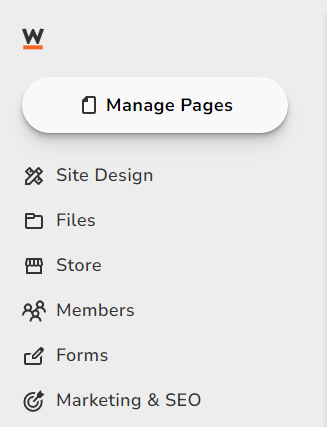 Next, look for the Languages section in the left sidebar. Click "Manage" to the right of this section.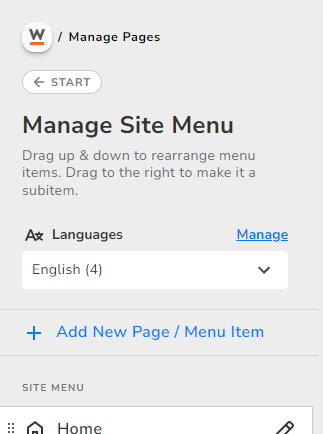 Click "Add New Language" to select the language you want your site to use.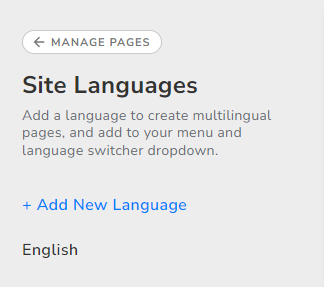 Select and Implement Your Language
Find the language you want to use, then click "Next" in the bottom right corner once you've chosen your language.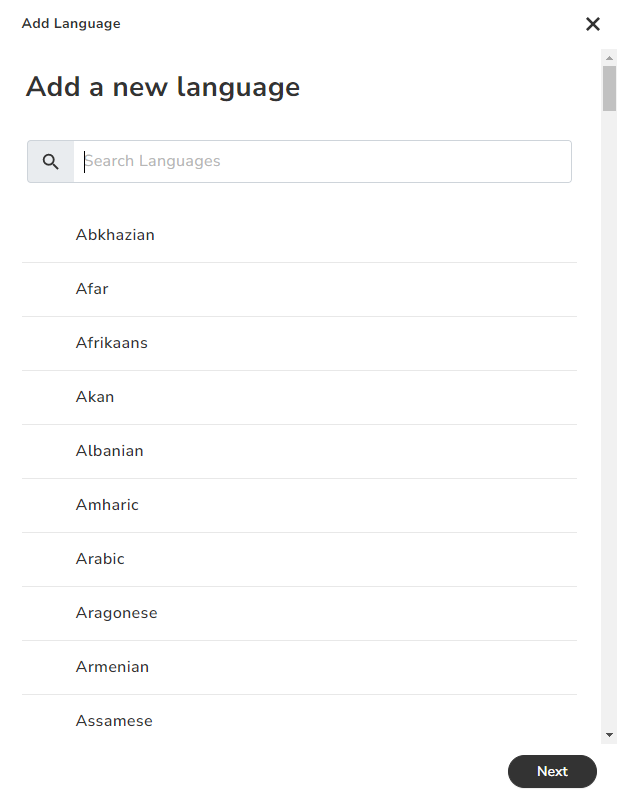 You'll be given the option to clone all of your existing pages for the new language you're implementing to your website. You have the ability to select or unselect the different pages of your website that you want to have cloned under the new language.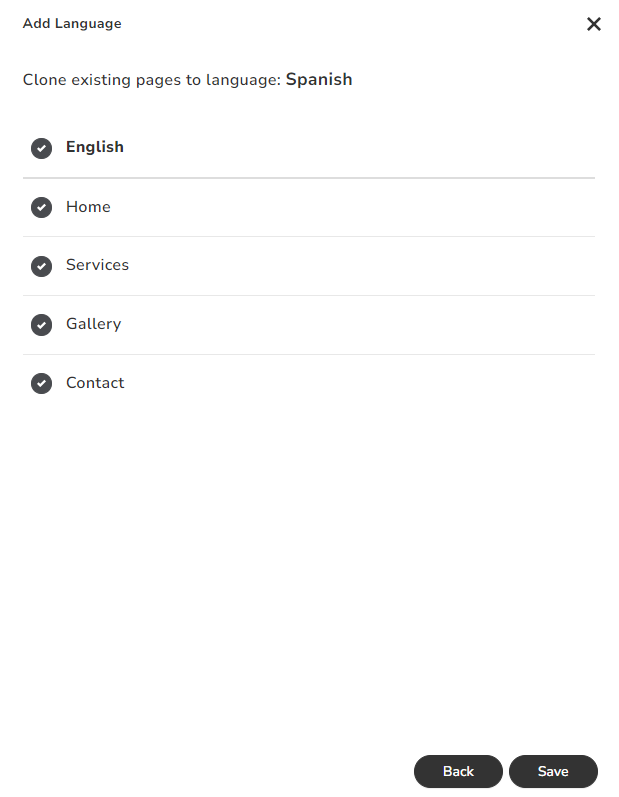 Once you've completed this step, newly-created copies of your selected page will become available for you to edit, labeled under your newly-chosen language. You can now implement any content to your newly-created page copies.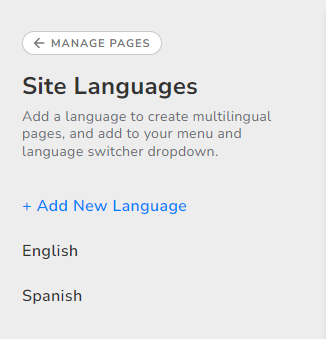 Congratulations! You've now completed implementing multilingual content onto your website. You can repeat this process for as many more languages as your site might need. Make sure the content you use across your pages is proofread so that your wording, grammar, and flow are natural and pleasant for your readers to experience.