As the retail landscape is changing, curbside pickup is becoming one of the most crucial ways to serve your customers while staying safe.
You can easily offer contactless curbside pickup through your online store built through Website.com. Here's how:
1. Once you've logged into the editor, click on the Store icon on the left side, and choose Store Settings.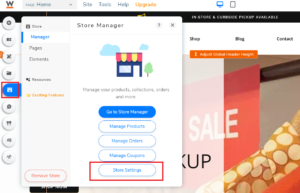 2. In the Payments tab, you can choose your payment methods to integrate payment systems like PayPal, or allow customers to pay in store.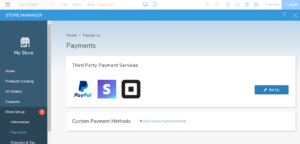 To allow customers to pay offline, click + Add a Custom Payment Method.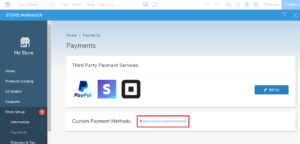 3. Click on the Custom Payment Method dropdown, and choose the Pay In-Store option. This is a great option to incorporate with your curbside pickup, so that while customers can order through your site, they can use contactless tap to pay with credit card upon pickup. In the text box, be sure to leave instructions for customers on how to pay for their orders, such as "We accept major credit cards, like Mastercard, Visa, etc." Next, click Save.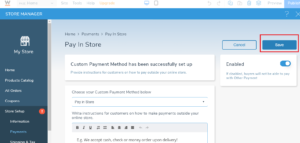 4. Under Shipping and Tax, you'll need to set up your in-store or curbside pickup option. To do this, you'll need to click the + Add New Rule button.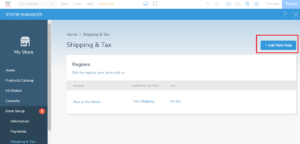 Click on the empty box to launch the dropdown menu, and choose the country you want to apply this Shipping and Tax rule to. To narrow down your region further, click on the country you've chosen and select the province(s) or state(s).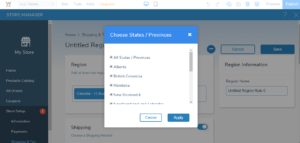 To disable shipping so that you can only allow pickup for this region, feel free to turn off the shipping option toggle.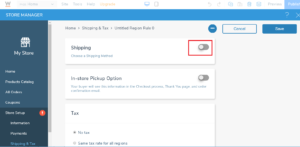 Turn on In-Store Pickup by turning on the toggle. Fill out the details needed, including your store location and instructions for in-store or curbside pickup.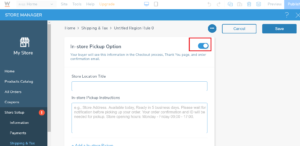 You can add more store locations for in-store or curbside pickup by clicking + Add In-Store Pickup.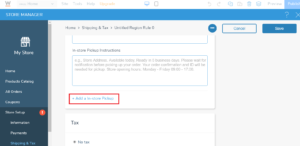 Click Save.
You've successfully added a pay in-store option and curbside pickup to your online store!
To support small businesses and retailers during this time, Website.com is offering 6 months of complete access to the Ecommerce plan for free. Our hope is to allow businesses to launch their online store and continue operations online in the smoothest way possible. To access this initiative, please visit: https://restart.website.com/